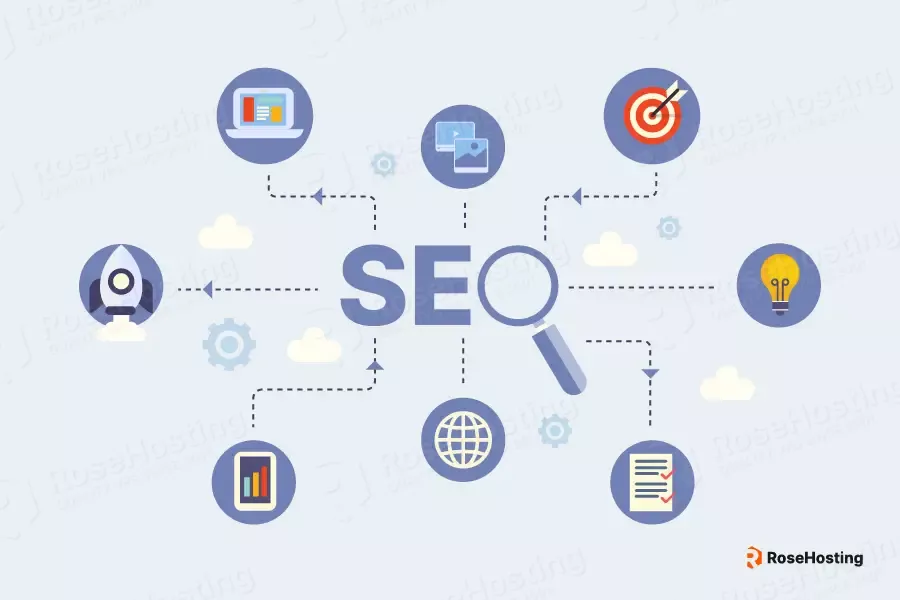 It's not a big deal if you skip SEO tools when developing tactics for higher online rankings, right? Wrong.
2023 is the year we all employ new techniques and get ready for business outcomes. We're prepared for the challenges Google will throw at us with more and more frequent algorithms.
Trust us — there is nothing a dedicated marketing team can't do, especially these days when new tactics are being deployed each second. The biggest question is how to outrank big players in your niche.
That's precisely what we've covered for you!
We'll help you discover the best SEO tools to get rid of poor content finally. You will be able to exceed your competition and scale new SEO techniques in a short amount of time. We'll also share insights from customer reviews and other influential marketers and SEO experts based on the trends they've seen growing over the years.
With adequate SEO tools, it's time for marketers to harness the power of digital marketing that reaches the right audience! But first things first, let's see how SEO tools work and why you need them.
Why Do You Need SEO Tools?
SEO tools are the foundation for any website to show up on Google. They help web pages to reach high placement on search engine results by providing content managers, marketing directors, web admins and other SEO experts with an in-depth analysis.
But what to analyze with SEO tools? Here is the breakdown:
Crawled URLs distribution
Site's health score
Number of issues discovered on crawled internal URLs
Relevant keyword ideas with Search volume, Keyword difficulty score and other advanced metrics
A breakdown of some site parts that contribute to better SEO performance, whether its traffic or backlinks data
Competitors' backlinks and historical backlinks via the dropdown called Show history
Competitors' pages that get the most organic traffic
So much more (YES – SEO is a vast field)
Even though you might already feel overwhelmed, there's no need to rush through every single analysis. An overview report, for instance, is very important when determining on-page and technical SEO issues.
In the example below, you see that our Health Score is 100% which is perfect considering the fact that even 90% is excellent! This number indicates the proportion of internal URLs on the site that don't contain errors.

An SEO tool can benefit any business since it helps potential customers to find a more accessible website. Showing up for keywords related to your business is key for connecting with your target audience.
Ahrefs also lets you see top issues, so you can prevent them from happening in the future.

Therefore, SEO content writing is essential for better rankings and cannot be overstated for businesses that desire quality results and strive for success. So, before diving into the SEO tools and their potential, we highlight the most critical SEO content marketing trends you need to be aware of before using any of the tools.
Top 5 SEO Content Marketing Trends
Understand Your Audience's Needs, Pain Points and Challenges
It is essential to know what your audience values the most. That's why Google's helpful content update that landed in 2022 still plays a big role.
This means:
To appear on the top search engine results, your content needs to provide value to the audience
Take a deeper look into social media conversations and other popular channels (Reddit, Twitter, Facebook, TikTok etc.) for discussion to understand your target market better
Understand the reason behind search intent (why users are searching for specific keywords)
Don't hesitate to get to the point and help readers achieve their goals faster
Make your users feel as if they had a fulfilling experience by reading your content
For instance, if you want to make your piece of content as valuable as possible, look at the top-ranking pages, and steal their format structure, but with a taste for innovation and a unique brand voice.
Improve Content Quality (Useful, Practical, Original)
One of the best ways to improve your content quality is to align it with your brand image.
Here is how:
Share real-life or business experiences; people like to know what is happening behind the scenes
Be authentical; your audience needs useful content that matches their needs
Focus on the topics you feel comfortable with; those should be aligned with your expertise and brand story
Always answer your reader's doubts
Make sure that your tone of voice is always consistent
Content UX design is of utmost importance for keeping users intrigued
What makes a big part of this SEO game is authenticity. Just don't waste your audience's time reading the same content they have already seen.
Focus On ROI (Return on Investment)
With budgets under more scrutiny, you will have to be smarter when it comes to investing.
Here is how:
Cut all ineffective spending on ads and other social media platforms
Focus on increasing organic search traffic
Revisit SEO-driven planning and improve your tactics
Put your creative storytelling in the first place
Content marketing will definitely be one of the most significant SEO factors. Clearly define how your content shares firsthand expertise; you will see significant improvement in other areas.
Human-Researched Content Over AI
Even though AI tools, like ChatGP, will increase human productivity and mass-production of content, they will also decrease originality. Brands and business websites will need content that expresses a humanly-researched approach.
Here is how:
Use AI to speed up your process but encourage innovation
Stay away from fluffy and inaccurate content that has no value
Express your opinion and real-world examples
This is how you can bring in more traffic and avoid being lost in search engine results. It should come as no surprise that Google's algorithm update gives a big advantage to valuable, human-centered content since AI is increasing in popularity. For some, whether it's worth it or not remains a big question.
Focus On High-Converting Traffic
Essentially, visitors don't need to click on anything. By focusing on qualified traffic and measuring click-through rates, brands will have more SEO success.
Here is how:
Increase your visibility on other high-performing websites (brand mentions)
Take advantage of popular forums, such as Reddit, Quora
Grow your email list with the right messaging
Prioritize your content marketing team to attract quality leads
There are just so many tactics you can apply to increase high-converting traffic. Slowly but patiently, you can take advantage of them all by increasing your average monthly content budget.
Now that you know content marketing trends for 2023, it's time to dive into the SEO tools that will help you reach them!
Top 5 Most Effective Tools for SEO
In the next section, you'll better understand the importance of SEO tools and how they can strengthen your marketing strategies.
Semrush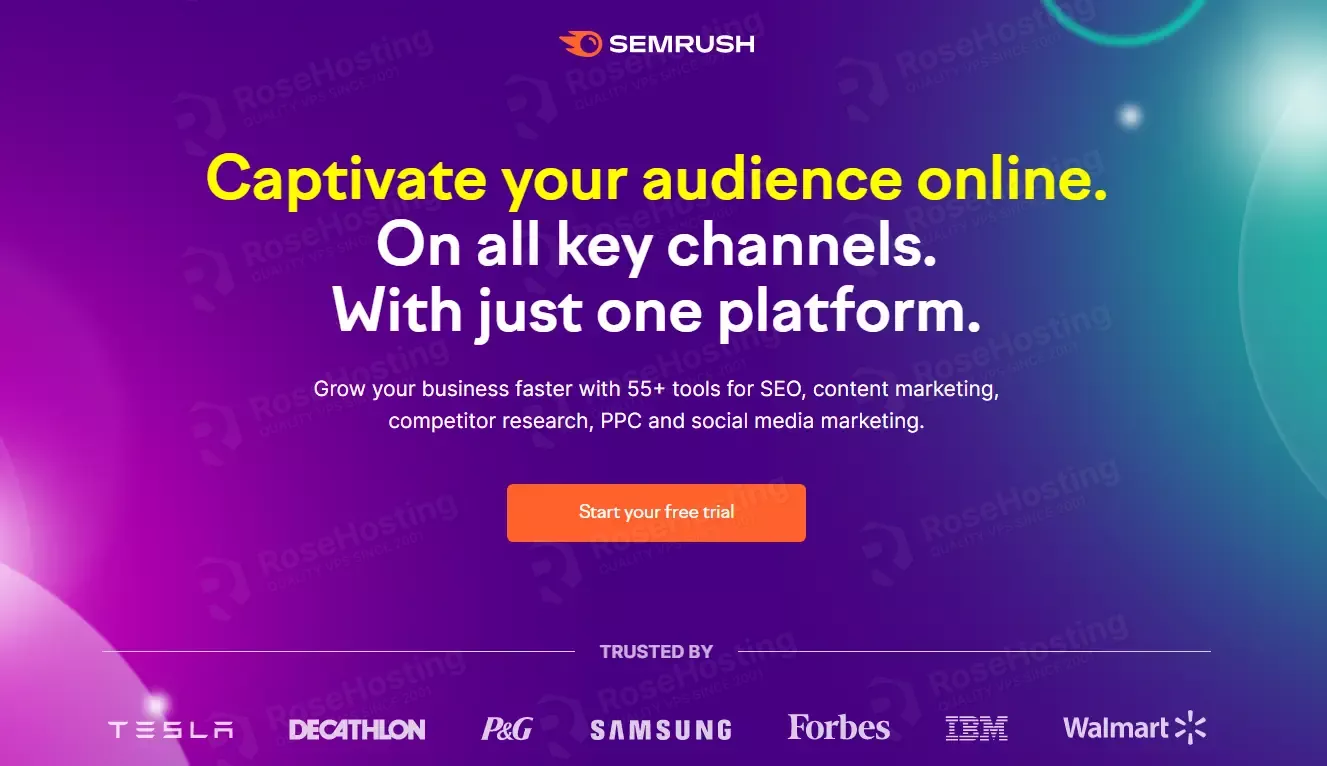 Semrush is a powerful SEO tool that helps you scale content strategies, conduct competitive research, position tracking, and outrank other players in your market. It makes you feel like you cannot imagine running your content campaigns without it.
Small and midsized business marketers will find it most useful for search engine optimization (SEO) tools. Many customers claimed that Semrush is the best digital marketing platform for keyword research, content marketing, social media, and keyword and backlink gap analysis.
It's also precious for managing SEO on a small team and affordable compared to other options.
What Do Customers Like About Semrush?
Creating personal blogs that generate over 100,000 monthly views each on average
Carrying out all of the SEO operations from a single tool and having 100+ satisfied clients
Keyword Magic and the ability to auto-generate assessment reports of current SEO health
Increasing overall ranking in a very short time
In-depth analysis of position tracking and backlinks
Content suggestions and improvements relative to targeted keywords
Customer support is always at hand to help out with any issues
What Do Customers Dislike About Semrush?
It is challenging to get the hang of at first, but the academy offers a wealth of resources and guidance to help users become experts quickly
Customers are left confused by the lack of a notification system that indicates they need to receive content from the professional writer they requested
For some, the trend graph in the Keyword Magic report is confusing
A bit pricey
Ahrefs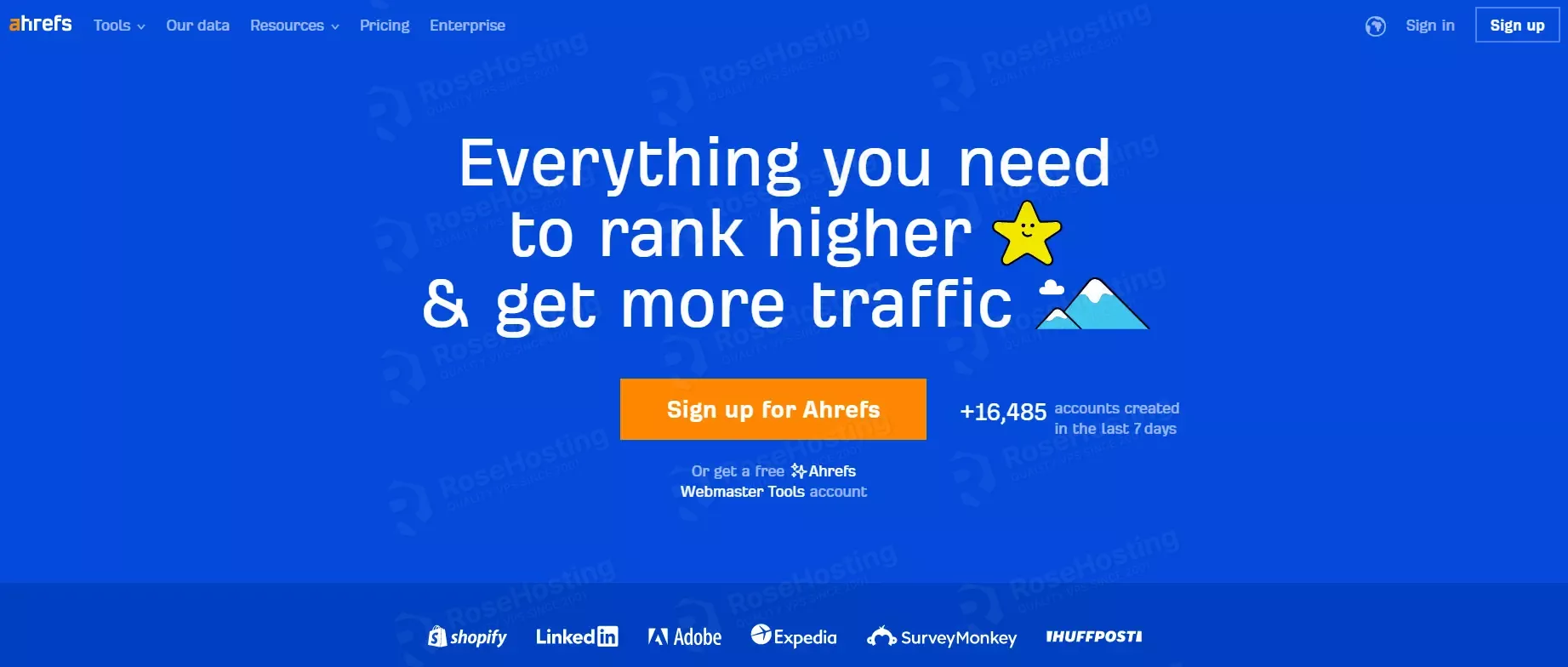 Ahrefs is one of the best tools for getting helpful reporting features, keyword research, backlink checking, and finding link-building opportunities.
For instance, this SEO tool offers an incredibly extensive index regarding keyword ranking data and useful reporting features. Their Backlink Checker tool is also great for accurately checking your website's backlinks and your competition.
Ahrefs is one of the most desirable online SEO tools since it has great features that help you discover what elements of your website need improvements to rank higher in search engines.
For example, you can find the most linked-to content within your niche, fix broken links, get an overview of your and competitors' best-performing pages and find new potential partners by analyzing backlinks competing structure.
What Do Customers Like About Ahrefs?
Huge database and the fact that the backlink data is solid
The crawl reports show the areas that need to be fixed on the site in order to improve the site's health
The ability to quickly see broken links and images and fix meta descriptions that may be too short or too long, and much more
Removing spammy backlinks pointing to the website and finding amazing backlink opportunities
What Do Customers Dislike About Ahrefs?
Ahrefs is more expensive than similar SEO tools
The lack of historical data for specific metrics
The user interface can be a bit overwhelming, and it's difficult to navigate certain features
Customers would like to see more granular data for certain reports, such as the ability to filter by specific subfolders or subdomains
The data quality is not always accurate; you must take their search volumes and traffic estimates with a grain of salt
Google Search Console

Google Search Console tool provides insightful data on the current website performance. To improve search engine ranking, it can constantly track search results and evaluate SEO issues, such as core web vital errors.
As you are about to scale your website performance and implement new strategies, this tool gives valuable SEO insights on how the peaks of website traffic fair. For example, Google Search Console helps marketers see what links their site is getting.
To get your content on Google properly, you need to submit sitemaps and URLs for crawling — and you can do that with Search Console tools. You can optimize your content using Search Analytics and analyze the website's impressions, position and click-through rates. As well as with other tools, you receive email alerts on issues to fix your site.
What Do Customers Like About Google Search Console?
Google search console pulls more traffic to the websites and improves landing page ranking
It allows users to suggest the list of pages lacking core web vitals because it shows insightful data
It provides the option to export data into Excel, and Google Sheets
It is easy to monitor search visibility on Google
Users can identify what pages are being indexed and which have associated errors
It's easy to find opportunities around already ranked pages and gives users ideas on which page and which keyword to target for SERP
What Do Customers Dislike About Google Search Console?
Reports highlight a huge amount of data making it hard to follow up during the analysis
For some, it's hard to recrawl URLs using the inspection tool
Users are looking for a better filter option on the performance section with the ability to get data for a list of pages instead of just a single pages
Moz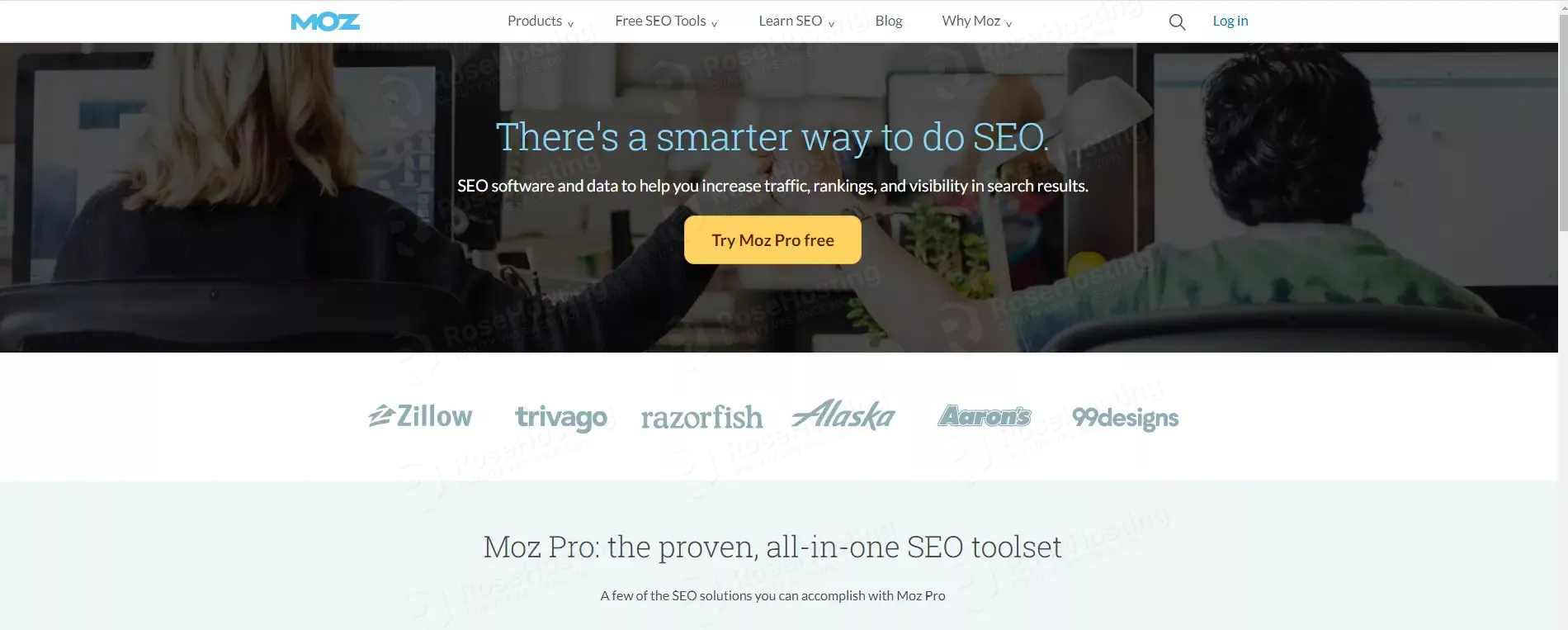 If you find yourself asking, "What does Moz stand for?" — you are not the only one. MozBar is a great tool (browser extension) that enables SEO experts to focus on strategy and insights and run keyword reports manually or schedule individual site crawls.
Active customers highly appreciate Moz's support. For instance, if you need help recovering some keywords that you had deleted from an account, the support team is quick and responsive, so you don't have to worry.
Moz provides analytics software for marketers to keep track of search marketing, social media, link building, social media, and brand mentions.
Need a fast and easy fix?
✔ Unlimited Managed Support
✔ Supports Your Software
✔ 2 CPU Cores
✔ 2 GB RAM
✔ 50 GB PCIe4 NVMe Disk
✔ 1854 GeekBench Score
✔ Unmetered Data Transfer
One of the best advantages is that Moz creates easy-to-use tools, educational tutorials, and resources for inbound marketing.
What Do Customers Like About Moz?
MOZ Customer Support is the best ever, especially in the tech industry
Having a quick response and the willingness to take extra steps to solve issues
They immediately refund money to users' account if they submit the request
The fact that the website can be in the top 10 #Rank by using Moz
Moz is a key player in an SEO service, responsible for accurate rankings data, keyword research, competitive analysis and tracking and on-page grading
It might be one of the most expensive software subscriptions, but well worth the cost
What Do Customers Dislike About Moz?
The site audit feature needs to be improved
The monthly cost is high
The Keyword Research tool isn't relevant compared to other tools in the market
The feature called 'Link Tracking Sheet' for crawling websites or backlinks lags sometimes and takes a while to crawl even a few links
KWFinder

The good news is that you don't have to be an expert in using this SEO tool. It offers advanced features for keyword research, and based on customer reviews—it has the most intuitive UX.
KWFinder is an excellent tool with a seamless interface and robust features to help you put your SEO efforts on the right track. According to customers, downloading long-tail keywords and XML files of keywords is more convenient than the rankings and CPC value.
A great way to improve ROI and search volume is to identify undervalued keywords with this tool. KWFinder is one of the most affordable keyword research tools you can find.
What Do Customers Like About KWFinder?
KWFinder helps users to be easily found in search engines when people search for their brand or product names
It allows quick and easy keyword research (volume, average CPC, and average SEO difficulty)
When users have questions, they get a really quick email chat reply
It helps users and their websites to rank higher in searches while simultaneously increasing their ROI
What Do Customers Dislike About KWFinder?
The fact that keywords cannot be imported via API connection into users' CRM or Google Adwords account
Sometimes, incorrect data is provided when niche words are used
Bottom Line
The best SEO tools can help you encourage better site performance and successful business endeavors. With these tools, you can see reports about how you stack up against your competitors, which strategies are working and what areas in your business need improvement.
Harnessing the power of business success without SEO tools would be tough. It's essential to keep track of backlink monitoring, keyword research, competitive analysis and website optimization audits.
We have only one more thing to say — good luck!