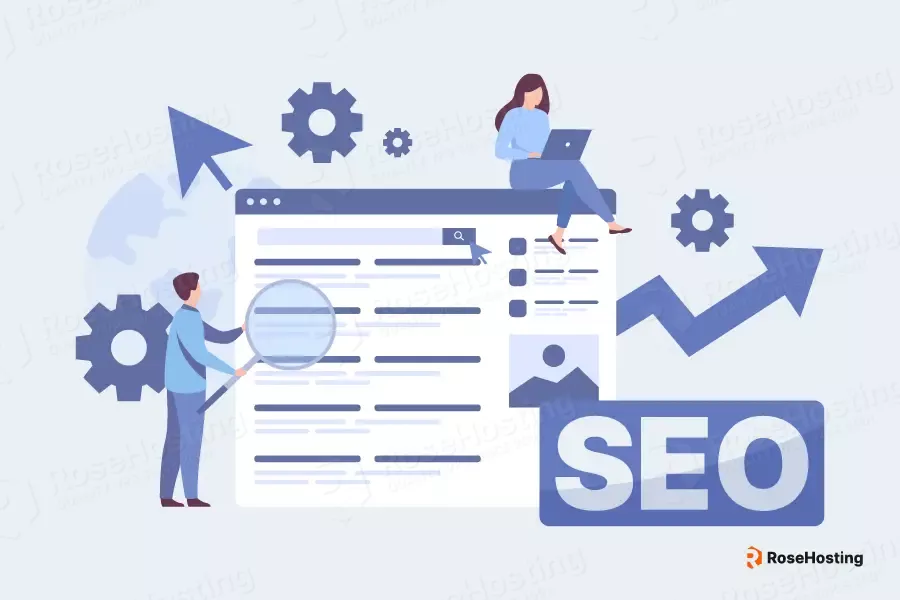 SEO isn't just a big or small-budget marketing campaign. It's content, strategy, problem-solving, community and language that people love or hate to hear and talk about.
Whatever your stance on SEO is getting more competitive and challenging. Since more than 252,000 websites are created every day, or 175 every single minute, SEO is getting increasingly more difficult to put into practice and acquire results.
For the best chance at ranking well, understanding how SEO breaks down and what has an impact is crucial. Fortunately, SEO can easily be split into three main components to focus on:
On-page SEO: Factors on your own website
Off-page SEO: Links to your pages from external websites
Technical SEO: Load times, accessibility and user interface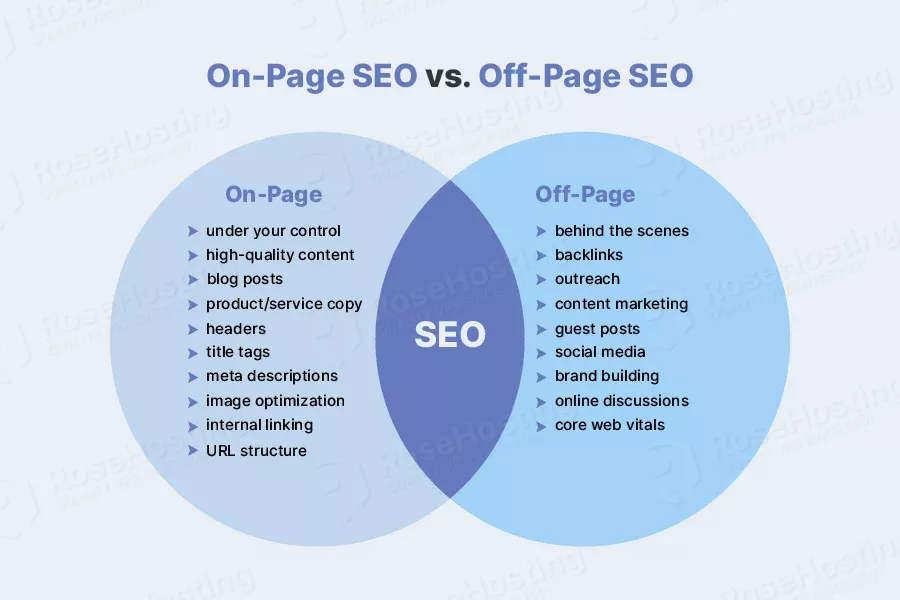 These three pillars of SEO play a pivotal role in how your pages rank. The technical SEO is equally important as the on-page and off-page elements, though a top-tier fully-managed hosting provider should be able to help you optimize this section. This leaves the first two, showing you the best on-page and off-page SEO examples and practices.
Our on-page vs. off-page comparison can help you understand where each tactic comes from and why it matters for SEO. Before we dive into the difference between on-page and off-page SEO however, here are a few eye-opening statistics to give you a better feeling of just how important SEO is to your business.
Top 5 On-Page SEO Statistics for 2023
Google's top three search results receive 54.4% of all clicks. (Backlinko)
Title tags that are too long are 57% more likely to be rewritten by Google. This can decrease your click-through rates significantly. (Ahrefs)
5.7% of pages will rank in the top 10 search results within only one year of publication. (Ahrefs)
Long-form content and short-form videos are expected to become an inseparable part of SEO strategy. (Demandsage)
60% of pages that are published within three years are the ones that rank in the top 10.
Top 5 Off-Page SEO Statistics for 2023
The average cost of buying a link is $361.44. (Ahrefs)
Pages that rank at #1 have an average of 3.8 times more backlinks than those that rank between second and 10th place. (OnTheMap)
URLs in Position 1 were 10% more likely to pass the Core Web Vitals assessment than URLs in Position 9. (ScreamingFrog)
Social media is the most popular channel for increasing blog traffic (Orbit Media).
People ignore around 70 to 80% of paid advertisements. (Demandsage)
What is On-Page SEO?
On-page SEO (called on-site SEO) refers to SEO techniques that help you optimize a website and rank higher in search engines.
For instance, when you implement specific keywords and rewrite content, optimize images, title tags or meta descriptions, you are using on-page SEO practices. The tweaks and changes you make to optimize your page's content, and other SEO elements can be seen by the human eye on your webpage. That is the reason why this SEO component is called on-page.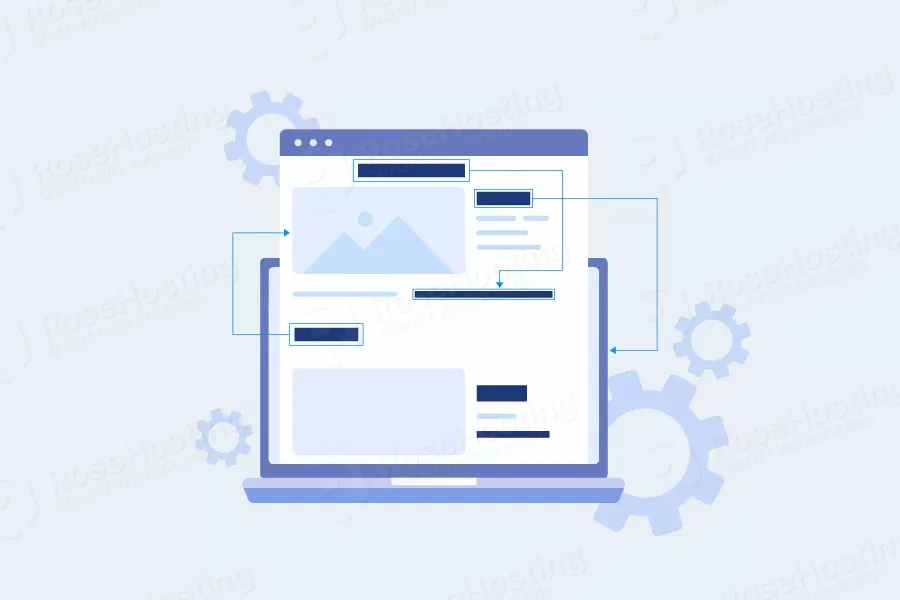 If the search engine, such as Google or Bing, determines that your site is useful for its users, that indicates that you are using the SEO benefits properly. Your website will then be eligible to be shown among many sites competing for those keywords in search engine results pages (SERP). Ranking highly in these SERPs will allow visitors to find you more easily.
Why Is On-Page SEO Important?
On-page SEO is important because you can gain better site visibility and rank higher in SERPs, which helps you bring more visitors to your site. The quality of your website and your content can then, in turn, convert your visitors into loyal customers.
Think of SEO as a communication channel between your site and search engines like Google. Google needs to know as much as it needs to about your website and how you provide value to your visitors.
To rank highly and continuously attract new traffic, you must optimize your site for search engine bots and follow on-page SEO trends to stay ahead in this highly competitive industry.
On-Page SEO Best Practices
The good news is that on-page SEO is directly in your control. You can make adjustments to your content by using specific keywords, title tags, meta descriptions, and other SEO ranking factors to build useful content.
Once you've taken care of your on-page SEO basics, you need to incorporate the human element. This is often referred to as UX (User Experience) and goes hand-in-hand with UI (User Interface). You have to ensure your creation is useful to your visitors and convert them into potential customers.
Create Useful and Original Content
Without helpful content, your visitors have no reason to view your site. Without original content, your visitors can go to any sites that have already published said content and are likely much larger, having been around longer. Your content is the very reason anyone would need to visit your site. Focusing on on-page SEO elements, your link portfolio and even technical SEO means little if the core reason for your users to visit is lacking.
This is why you'll often hear the phrase "content is king" in the SEO world. It is why visitors come to your site. Why do those visitors engage and hopefully become customers? Google and other search engines know this and are well aware of this fact, which is why they put an incredible amount of emphasis on ranking helpful and original content higher than fluff pieces that aren't useful or are plagiarized and even text that is simply slightly reworded.
Example:
Suppose your page struggles to rank in the top 10 search results for your desired keyword. One of the most common reasons may be that you ignored highly-valuable keywords in your content or that it needs more information that provides value to your visitors.
To start off, you'll need to find keywords your page does not rank for, which are searched for by your target audience, and for which you can create engaging and useful content. One good strategy is to compare topics your competitors rank for by simply typing in those keywords into your search engine of choice and seeing what exactly ranks near the top.
If SERPs prioritize this content, then you know that this is what your audience is after. Try to make something in that vein that's focused on a smaller niche and valuable to a select subset of those searches. Alternatively, go for an all-encompassing long-form article that covers everything your competitors do and much more to give your users the whole picture.
Be aware that good content takes time, and long-form content especially can be very time and energy-consuming, but more often than not, worth the effort.
You can take advantage of tools such as Ahrefs' Content Gap tool, or Semrush Keyword Gap tool. These amazing tools target keywords that your competitor's pages rank for and you don't.
Ahrefs Content Gap Tool
Step 1. Go to Site Explorer in Ahrefs, and insert the URL of the page you want to rank higher.

Step 2. Insert the top-ranking pages that rank higher than you for a specific keyword you want to check and click on the show keywords orange button to get the results.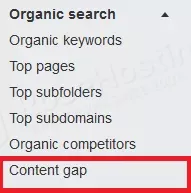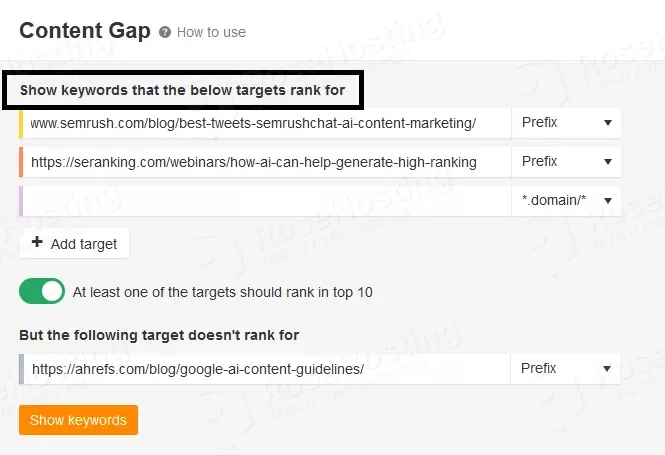 To enhance your SEO content strategy, you must consider the user search intent and implement graphics, visual material, and original data to exceed the competition. What you can also do is the following: Create unique banner ads (hypertext links in the form of graphic display) that have unique text on them with unique links that redirect you to different pages (or even direct purchase pages) and place them on the top or bottom of a website or down the left or right sidebar.
Implement a pricing plan or a thin banner, which can be static or animated, in between paragraphs on the blog post or listing some key features of your services and products with pricing along with a button that takes visitors to the conversion page.
Create blog posts whose main and best solution is to use your services where essentially the entire article leads into a link for pricing plans.
Offer a newsletter with your latest posts and let people sign up for the newsletter at the bottom of all of your posts.
Regularly update your content and always research your competitor's content to stay on top of the game.
You can also get a fully-structured list of practices you can do to improve your SEO rankings for certain pages of your website by using an on-page SEO checker. In addition, you can use Semrush Keyword Gap Tool.
Optimize Visual Content
The value of visual content has increased over the years, and visual ads still play an essential role in digital marketing. It is clear that people tend to retain interesting visual information associated with text rather than just plain web content.
To optimize images, you have to add the keyword in the alt text and image title and accurately describe the image in the metadata. Since search engines do not like slow-loading websites, you must pay attention to the file size. Simply put, if the image is well-optimized and compressed, you can expect fast loading website.
Visual content is important because of it:
Guides the reader through the content
Explains complex subjects
Breaks down content into bite-sized chunks
Gives your SEO a boost
Makes your content visually appealing
It should come as no surprise that 90% of bloggers take advantage of visual content. Therefore, visual content, such as images, videos, and graphics, is an undeniable part of every successful SEO strategy.
Implement Responsive Design
Since mobile usage has overtaken desktop usage in many industries, it is vital to have a responsive first design. When used correctly, your web content will adapt to all screens automatically.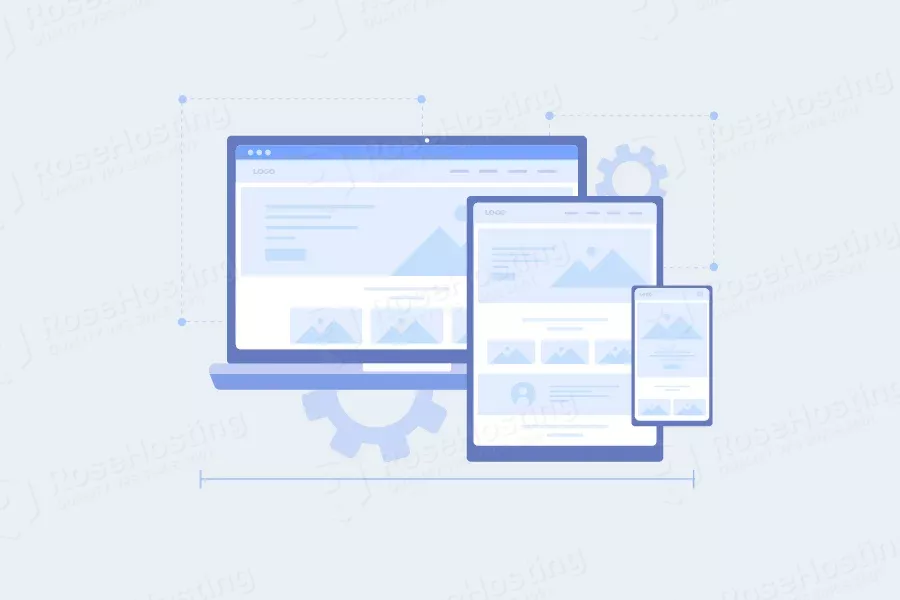 Regardless if the majority of traffic to your website comes from mobile or desktop users, with responsive design, you are ready to cater to all your visitors without worrying that you will lose customers.
To implement responsive design, you must group various screen sizes into a few categories, set fluid layouts, and define responsive breakpoints and typography.
Use Your Keywords Naturally
For a website to be SEO-friendly, keyword research is essential. To attract a high volume of readers on your blog or specific page, you first need to master keyword research.
Integrating SEO keywords into your content requires knowing where and how often to use those keywords. Using the right keyword research tools can improve the overall traffic-driving strategy. The most important places for keywords to appear are the page title tag, the first paragraph of text, the title, the meta description tag, and the anchor text linking to that page.
While Google and other search engines have shown no identifying percentage, they do rank pages based on their keywords. From a relevance perspective, a good rule of thumb is that for every 100 words, your keywords should appear about two or three times. You would naturally use this in a conversation if you weren't specifically focusing on the keyword but had a good mastery of the topic. You mention the keyword enough times that your users know what you're talking about, but the conversational tone around those keywords should be conversational and natural. Forcing keywords into content will actually make your content read as if it were spammy, which always turns readers away, and Google follows suit. It may seem counter-intuitive, but if you struggle to implement a specific keyword, simply don't do it.
Take Advantage of Internal Linking
Internal linking is a procedure that links one of your pages to another page within your website. It is a fantastic SEO strategy that keeps your visitors staying longer on the website and, at the same time, allows them to jump through your pages logically, reading the content they're after. Wikipedia is a fantastic example of internal linking, where you can tell what the page will be about before you even click it.
Google can absorb more information and crawl and index your site pages if you know how to implement internal linking. This will ultimately help you rank higher on the search engine results page (SERP).
One essential thing is that anchor text must determine what the target page is about. The user should have a good idea of where that link leads before clicking on it. As such, avoid using phrases such as "click here", "take a look", or "follow this link". Google wants help from you; to better understand the content of the page you are linking to so that they can rank those pages more appropriately.
On-Page SEO Checklist for 2023
This SEO checklist should not carry a risk of non-achievement. When your sense of urgency increases, it is more likely that you will not be able to set relevant goals. If you are just starting with your SEO strategy, prioritize some tasks, and the rest will come naturally.
In other cases, focus only on SEO tactics you find urgent.
Let's check this list out.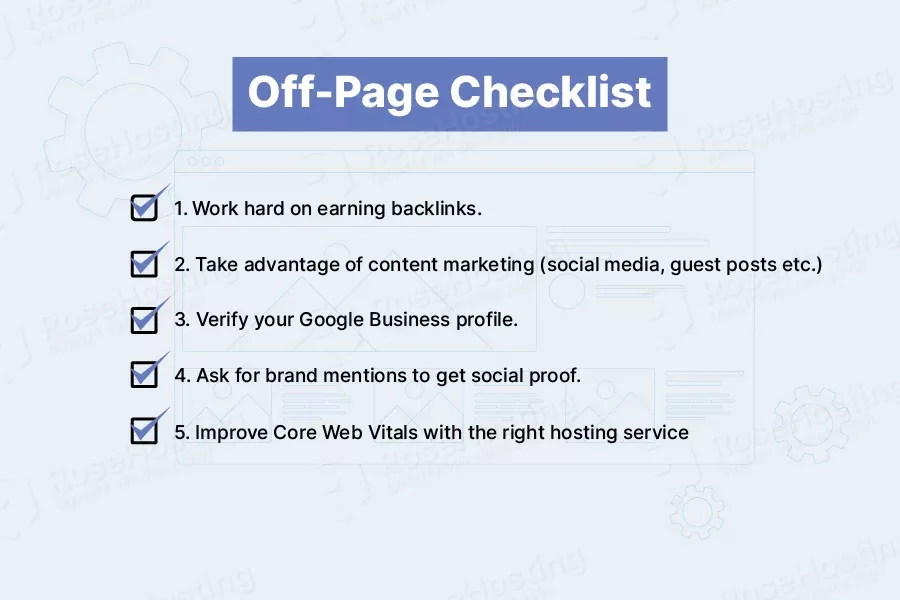 What is Off-Page SEO?
Off-page SEO or 'off-site SEO' refers to all page ranking factors that are not visible on your website.
For instance, 'backlinks' are links on other web pages that direct back to your website. By putting off-page optimization practices into place, you can increase the authority of your domain and connect with new customers.
Why is Off-Page SEO Important?
Off-page SEO ranking factors, such as social media, backlinks, or brand building, are important. They promote and enhance your brand reputation to help you reach new and maintain a relationship with your existing customers.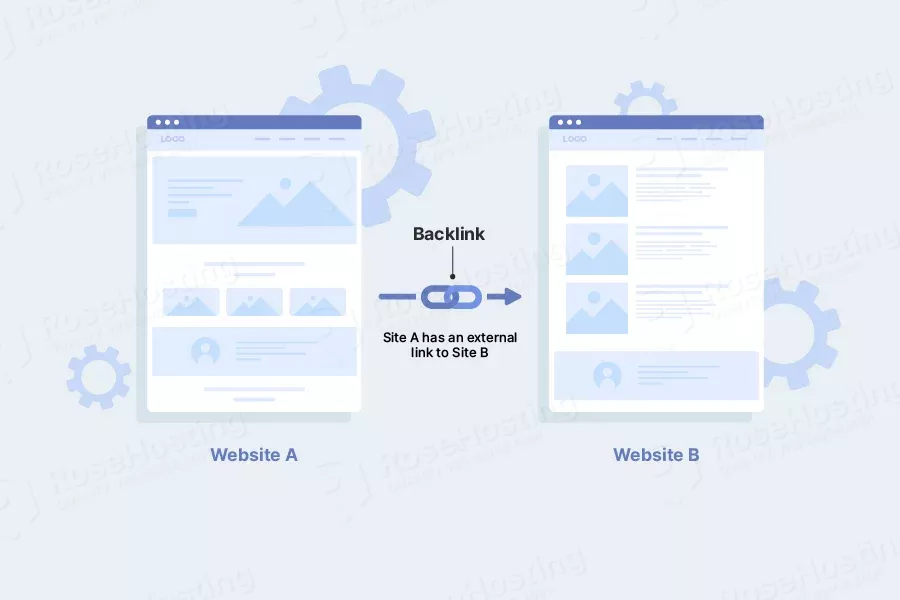 Off-page SEO services aim to increase your brand popularity and authority score and make your business more trustworthy.
Off-Page SEO Best Practices
The search engine optimization (SEO) revolution started at the end of the 20th century. Not only has it changed the way we find relevant information, but it has also had a tremendous impact on how we sell online.
There are several off-page SEO factors that are evolving each day. Here is the breakdown of the most important off-page SEO strategies you should be aware of before reaching your target audience.
Work on External Linking Building
Simply put, an external link that targets your site is one that comes from another site. The same thing applies when you link to another site. When done right, external linking can significantly improve the credibility of your website.
External links are vital sources of ranking power, and they maintain readers' trust. Even though they are considered one of the hardest SEO metrics to influence directly, they still prove to be key in strengthening the popularity of a given web page.
So, how do you go about earning more backlinks?
As an example, if you're using an SEO comparisons tool like Semrush, Moz, or Ahrefs, you could review the backlinks.
Let's say you come from WPBeginner and want to check your top competing domains and their backlink structure.
When using Ahrefs, insert your competitor's domain within the Site Explorer tab.

Hit "Backlinks" within a Backlinks section to get an overview of their Backlink profile.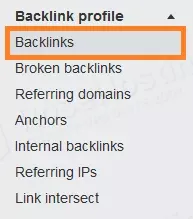 Set up Domain rating from 40 and Domain traffic from 5,000 or more and click Apply, so that only quality websites appear.

Skim through the list and pick the title you find suitable, go to the URL, and see how that specific target can benefit you and how you can reach out.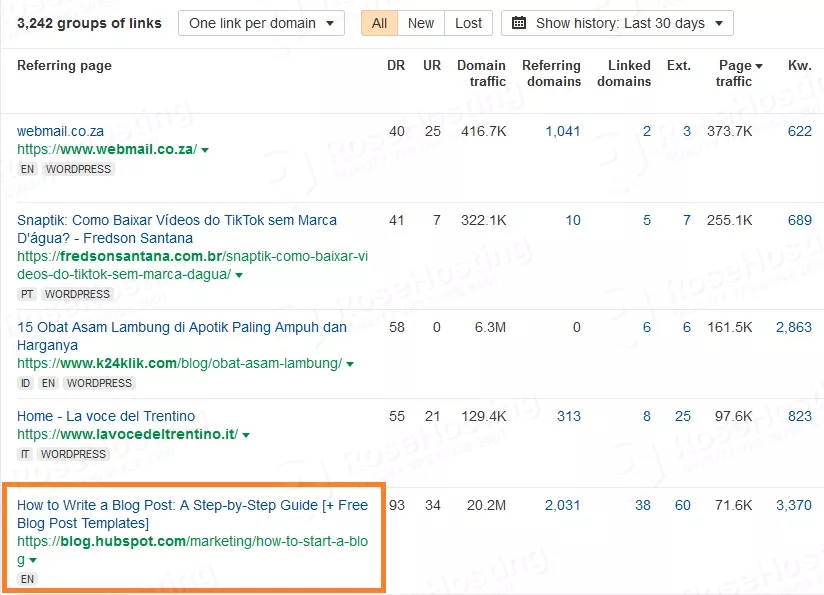 Send a personalized message to your target via social media (Linkedin, Twitter) or email.
Remember that external links that point back to your domain need to come from high-authority relevant websites. By taking advantage of this off-site SEO strategy, you are helping users find additional, valuable information outside of your website while also encouraging them to remember and revisit your site again as it is a useful resource and, if not, points them in the right direction.
Focus on Content Marketing (Social Media, Guest Posts etc.)
Content marketing is one of the most effective off-page SEO strategies. Social media, influencer marketing, and guest posting are vital components of the content marketing strategy.
Firstly, you can take advantage of guest blogging. Secondly, you can use social media to drive traffic to your blog. When you publish an infographic or a case study that gets covered by a high-authority website – you are using off-page content marketing.
Influencer marketing can also be a great way to build your brand reputation and take your business to a new level depending on your industry niche.
Claim Google and Bing Business Profiles
When claiming your Google Business Profile, you are more likely to connect with your customers and grow your business. It is important to not only understand how your business data shows up on Google but to have the ability to fix mistakes and make updates to things like your public holiday working hours on the fly.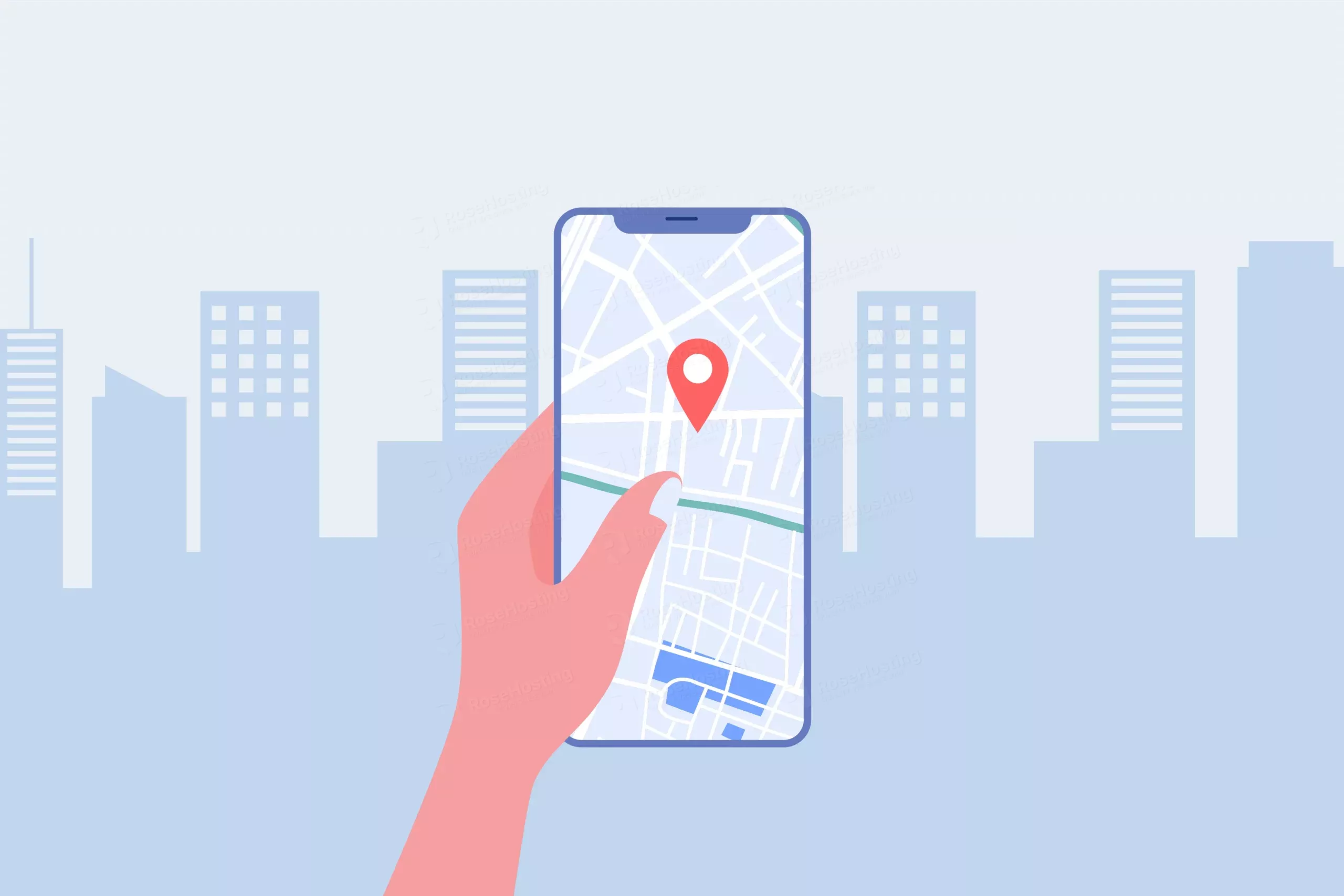 First off, you need to verify your business profile. To do this, you must add, if it hasn't been added already, and claim your business via Google maps. By taking advantage of Google My Business, you can improve your local presence to boost sales.
Reach Out to Reviewers (Brand Mentions)
It can be hard to be seen and heard online these days with so many competitors in the game, but you can find reliable product review websites and ask them to get featured. Those websites give prospective customers the power to make an informed decision about purchasing from you.
Therefore, social proof is important whether you want to purchase a specific product/service or choose another one. For example, you will probably look into customer reviews if you want to migrate from your current host to another hosting provider.
Reaching out to social media influencers and other big names can greatly impact your traffic. For example, you can get a dofollow permanent link from a reputable site, but you need to clarify things first and make a plan.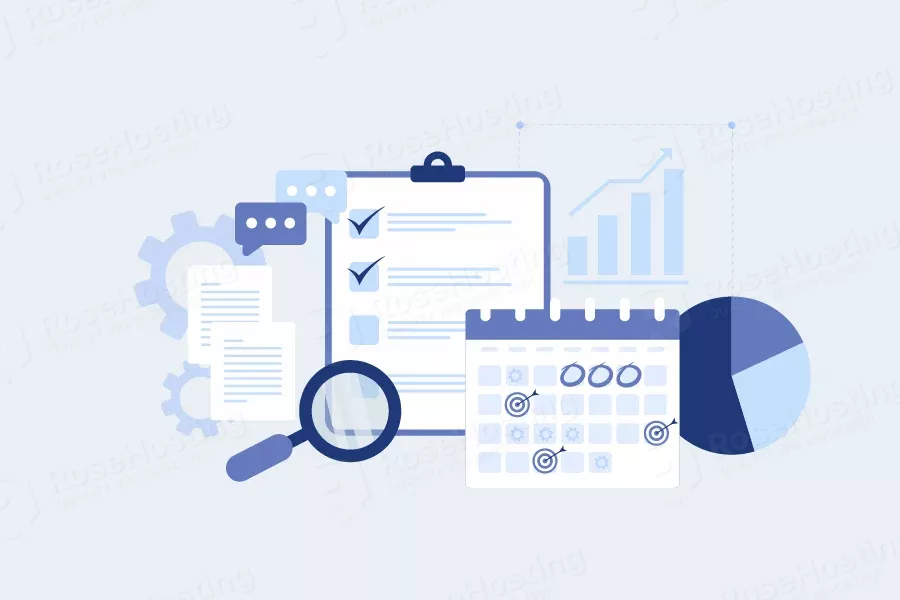 Whether you have a lead generation, e-commerce, or advertising-focused website, your first port of call is to get targeted traffic and increase your conversions. Perhaps you can offer your services or a specific product free of charge so that the potential site owner you are dealing with can experience your service or product firsthand and see how much it helps them. In exchange, you negotiate to have your brand shared on their website, social media accounts, newsletters, or podcast and thus reach their audience. You need to assure them of the quality of your services.
There is also a potential benefit not only to get a decent backlink but actually to get a bunch of conversions if your audiences align. Your new influencer partner might even be willing to go into a deeper partnership, such as an affiliate or a brand ambassador, as part of an ongoing deal. In either case, you need to establish a connection through email, social media, or even by scheduling a call.
When you are searching for potential partners, here's what you should do:
You first want to check their Authority Score, Organic Traffic and Audience (based on the location you are interested in) as a percentage. After that you want to check their all time organic traffic and organic keywords and see if they are growing or if there have been prior dodgy black hat SEO tricks.
Finally, you want to look at their top organic keywords and their organic position distribution for positions 1-20.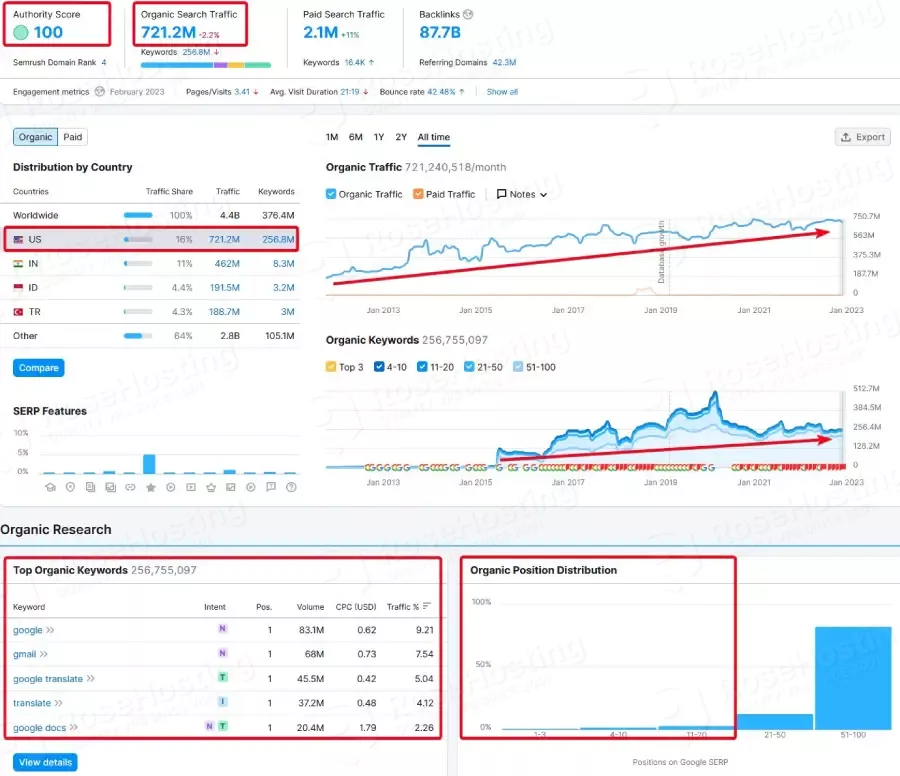 You can do the same thing in Ahrefs.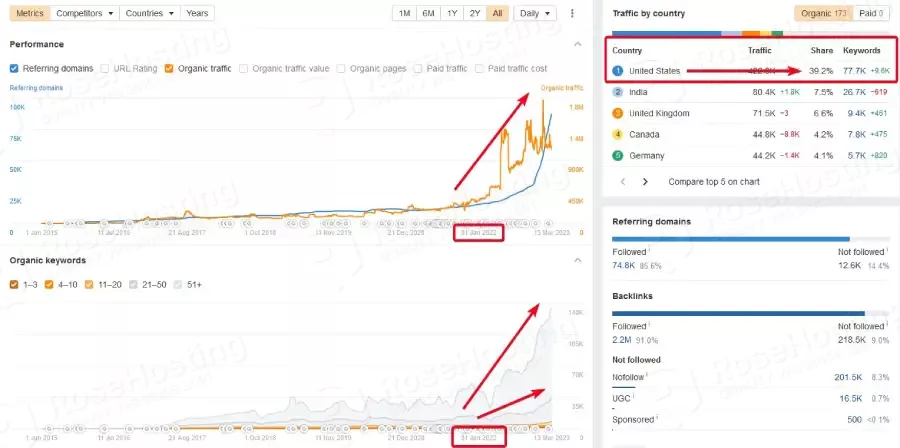 You must get a full list of their organic search positions and the traffic volume they're getting. Here you should take note of the KD they're going for; if there are any green KD% with millions of searches, those terms are generally unrelated to any industry, and the more of those they have, particularly near the top, the less relevant they are.
The more terms that are somewhat relevant to your industry, the better!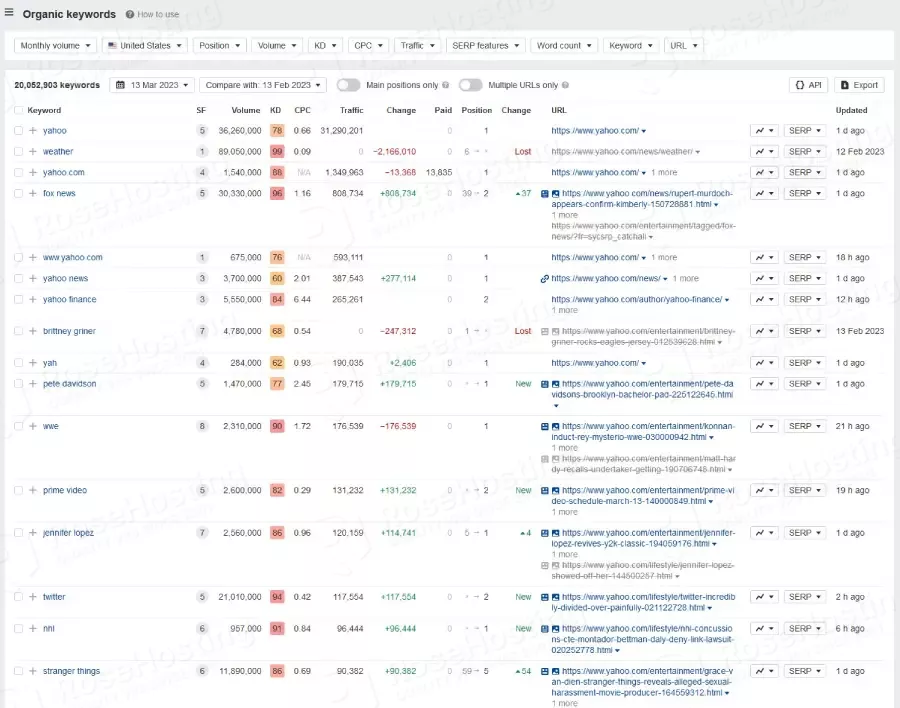 Finally, if they look good, even if they have a lower DA/AS than you or less traffic, take a look at their site, and see what their content and UX design are like (particularly their top-ranked pages).
If you find a partnership opportunity of this quality, that's a hit, and for this type of possibility, you can discuss link exchanges, special affiliates, and even payments.
Improve Core Web Vitals
A first-page result in Google has an average page loading speed of 1.65 seconds. However, the benefits of having the right hosting service will help your website load in less than 1 second to get more traffic, more conversions, and more happy customers.
There are several tools that can help you analyze your site performance. Google PageSpeed Insights is the official Google option.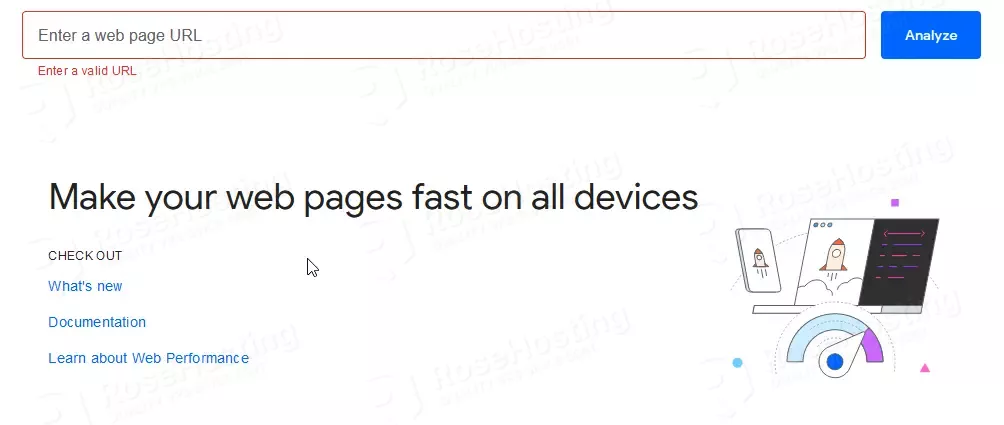 If you have a good managed hosting provider, the good news is that you don't even have to worry about understanding what Core Web Vitals are, or how to measure them. You can take advantage of your hosting service, and they'll help ensure you're providing the best user experience and boosting your ranking.
Optimizing site speed and user experience requires a lot of work and technical knowledge, but this off-page SEO technique can really pay off.
Off-Page SEO Checklist for 2023
Decide which off-page strategies are the most valuable for your business and start from there. For example, link building is one of the most popular strategies for improving off-page SEO, but it takes time.
However, working on off-page optimization is necessary and the best place to start is a checklist to enhance your online presence.
Technical SEO Bonus Tip: Improve Your Site Speed
The most recent technical SEO statistic brings new insight:
70% of consumers claim slow page speeds negatively impact their purchasing decisions.
The truth is the less time it takes your website to load, the better the conversion rates and revenue. This is a good reason to keep an eye on server response time, which is affected by:
the amount of traffic your website receives
how many resources each page uses
most importantly — your hosting solution
No one but the teams at Google and other search engines knows the exact weight of each of these SEO ranking factors, as the algorithms are a closely guarded secret so as to avoid abuse. While the on-page and off-page elements have a lower technical barrier to entry but require a lot of time and effort, technical SEO is quite a bit more; as the name implies — technically demanding.
It focuses on elements such as increasing your page load speed, allowing bots to easily and efficiently crawl your site and optimizing your server to be quickly and easily accessible to as many users around the world as possible.
As a fully-managed hosting provider, we help you optimize your website and increase your page load times to blazing-fast speeds.
We don't just talk the talk. We walk the walk and practice what we preach.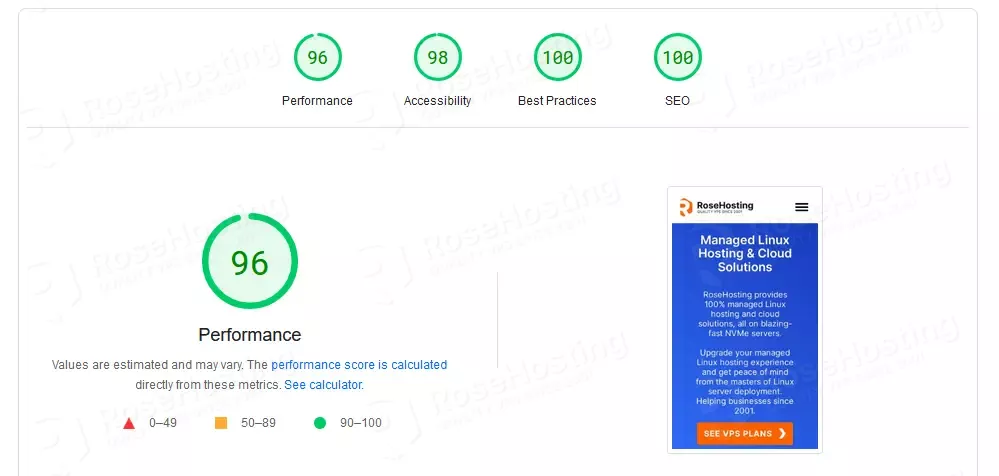 The Difference Between On-Page SEO and Off-Page SEO
On-page and off-page SEO are two main categories of a comprehensive process called search engine optimization, but each of them can be applied separately.
When we say that on-page SEO is entirely within your control and off-page isn't, this is because a typical email outreach strategy can oftentimes lead to little to no success in the early months of your campaign. It's not unheard of that you craft a perfectly personalized message for your initial and follow-up emails and still get nothing.
Only to find out that LinkedIn messages get an average reply rate of 85%, which is three times higher than traditional emails. This statistic encouraged you to start your LinkedIn outreach strategy, and you finally got some results, but not exactly the ones you expected.
Consequently, off-page strategies are out of your control to a degree in that they depend on other people, marketing trends or even the economic situation to get others to play nicely and link back to your finely crafted content. You can have a large impact in how it turns out, but cannot guarantee success.
Need a fast and easy fix?
✔ Unlimited Managed Support
✔ Supports Your Software
✔ 2 CPU Cores
✔ 2 GB RAM
✔ 50 GB PCIe4 NVMe Disk
✔ 1854 GeekBench Score
✔ Unmetered Data Transfer
On the other hand, on-page SEO strategies are more in your control and can be directly influenced by your knowledge and SEO experience. For instance, you want to move your existing page from the 35th place and get on the top page of Google. To start off, you must update your content and check if your target keywords are communicated throughout the text as well as positioned in important places on page such as:
Page URL
Page title
Heading and subheadings
Opening and closing paragraph
Alt tags
This won't guarantee you a top spot for that keyword due to your competition doing much the same but it directly impacts how your content is perceived and categorized by search engines and should be better optimized for that specific keyword resulting in better ranking positions.
Are On-Page and Off-Page SEO Equally Important?
On-page SEO and off-page SEO, along with technical SEO, are all important, though as search engine algorithms are a closely guided secret, no one really knows what weight each carries. It is a matter of which of these SEO elements should become your starting point. Our advice is to prioritize on-page SEO over off-page SEO not only because it is entirely within your control but because it can directly impact your off-page SEO success rate. People like to link to better content after all.
It is equally important to ensure your site complies with off-page and on-page SEO ranking factors, such as content, external links, and alt tags.
Bottom Line
People like getting to the information they're after from the first search query they type in and usually from one of the top SERP listings. Logically, nobody likes to go back and forward from site to site and scroll down to result 178 to get an answer to their query finally.
This is what SEO is all about — getting your website recognized in the competitive online business world. As a business owner, your goal is always to keep an eye on SEO as your customers expect to type in your business name, service or product and be able to find you quickly and easily. For many business owners, hiring an in-house SEO specialist or agency is the usual practice.
Quality optimization requires time and results in a well-structured website that triggers audiences' emotions and maintains user engagement. By taking data from competitive SEO analysis tools, you can get better insights into actionable steps to improve your search rankings.