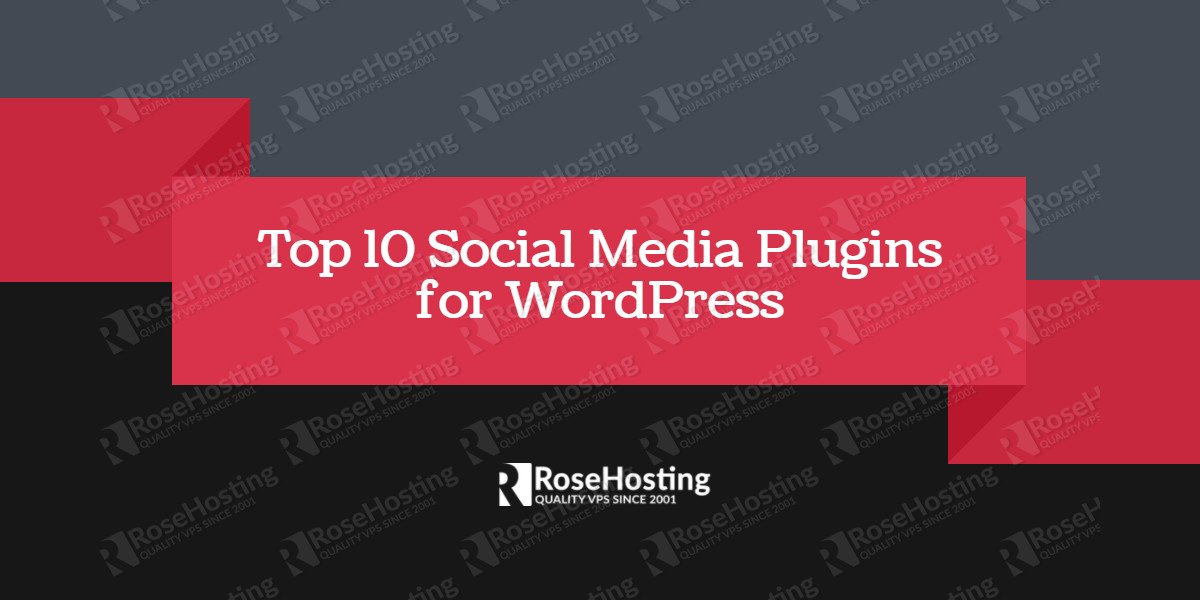 We'll show you the Top 10 Social Media Plugins for WordPress. In order to drive more social media traffic to your WordPress blog, you will love these WordPress social media plugins. These plugins will let you add a beautiful set of social share buttons on your posts which will encourage your visitors to share your content on their social networks. This will help your website get better exposure and it will increase the user engagement.
It is essential for every blogger out there to include social sharing buttons on their blog since it was started because it's not easy to achieve a great amount of traffic towards your blog if you don't have social media integration, correct? Facebook, Pinterest, Twitter, Google+, LinkedIn, Stumbleupon, and Tumblr are the most popular among the social sites, though there are many other social sites which can also be equally effective if they are used properly. However, it comes down to you which social media sites you want to be active on.
Before you read this post, you may be interested in reading our list of the 8 essential plugins every WordPress site must have
Let's take a look at ten of the best plugins (some are free and some are paid) for displaying social media sharing bars and buttons on your WordPress posts and pages.
1. Monarch WordPress Plugin
If you are looking for a paid WordPress Social Media plugin than look no further – Monarch is the one you need.
This plugin is developed by Elegant Themes, and they have really done a great job doing so.
Not only does this plugin let you add buttons for social media sharing in several places on your blog, the buttons are created with the goal of encouraging your visitors to share.
Monarch lets you add sharing buttons in various places and this includes "flight". Fly-ins are commonly used for adding email subscriptions, but because there is a great importance of social media, you may want to consider using this option for social media sharing too.
What we like the most about the Monarch plugin is that it also allows you to add sharing buttons on mobile sites. The placement will ensure that you get a good number of shares even from users that visit your blog via mobile phones.
2. Revive Old Post WordPress Plugin
Revive Old Post has been vital in the social media plugins market for a while now. It's an easy way to get your previous content shared on social media regularly, and even on autopilot.
In short, all you need to do is activate the plugin, set the time intervals in which you want the content to be shared, the networks it should share to, and you're done. From that point on, the plugin works automatically and we can confirm – impeccably.
3. Easy Social Share Buttons WordPress Plugin
With over 7k sales this plugin offers almost every possible feature out there that can be added to a social sharing plugin. The design of every element is truly excellent and even the admin control panel offered is elegantly designed.
Its control panel offers setup options along with analytics which will allow you to easily track down every single click and keep the records safe with you. It also comes with 5 built-in visual composer elements along with nineteen templates, twelve native social buttons, and twenty social platforms. You can set its tools at eleven different locations on your blog.
4. Social Warfare WordPress Plugin
Social Warfare is one of the best fully responsive social sharing plugin for WordPress. This plugin offers beautiful and highly customizable social sharing buttons for your WordPress site. This plugin helps you create in-post tweetable quotes that later can be shared by your visitors in a super easy way as custom messages.
It has the option to upload a Pinterest-specific image and description which will help any blog to drive massive traffic from the popular image sharing platform. It comes with a widget which will help you to display the most popular content of your site depending on the number of social shares that you have.
This plugin also gives you a detailed and understandable analysis of the social data, it automatically adds UTM tracking to every shared link which will later enable you to track and see how your social shares are performing, and there are few other amazing features which make it one of the best social media plugin for WordPress out there.
5. Social Share & Locker Pro WordPress Plugin
Social Share & Locker Pro is also another WordPress Plugin that has the option for setting up a "social share to pay" for content and general use share buttons.
You can easily add this to your WordPress theme using the shortcode generator and also the admin settings.
[ecko_alert color="blue"]Need a WordPress VPS with EPIC 24/7 Support? Get one from us and we'll take care of your WordPress server 24/7.[/ecko_alert]
6. ShareThis WordPress Plugin
ShareThis is one of the most popular and most common social media plugins for WordPress, and it's also one of the easiest ones that will enable your users to share your content on over eighty social sites (yeah 80!!!), such as Facebook, Twitter, Pinterest, WhatsApp, Linkedin etc. The plugin comes with optional share counters, which is great if your posts get a lot of shares.
7. Shareaholic WordPress Plugin
The functionality of Shareaholic plugin is similar to what ShareThis does, but at the same time, it offers much more than simply putting share buttons on your site. If you are looking for a simple and easy social sharing plugin, this might be a bit too complicated for you, but if you are looking for a more feature-rich plugin, this one is a good match and will get the job done.
Need a fast and easy fix?
✔ Unlimited Managed Support
✔ Supports Your Software
✔ 2 CPU Cores
✔ 2 GB RAM
✔ 50 GB PCIe4 NVMe Disk
✔ 1854 GeekBench Score
✔ Unmetered Data Transfer
8. Jetpack WordPress Plugin
Jetpack the most versatile WordPress plugin available. It includes many modules, and more are continually being added by Automattic which is the company behind WordPress.com.
The sharing module is simple, easy to use and effective. It supports nine social media networks, along with email and print buttons. Buttons can be enabled on your home page, search results, archives, posts, media and pages, and the sharing label and Twitter username can also be defined.
9. SumoMe WordPress Plugin
With more than 50,000+ active installs in a short period of time, the SumoMe plugin has become very popular and is being used on massive websites like AirBnB.com and SocialMediaExaminer.com. According to the SumoMe website, there are over SIX million visitors enjoying this plugin overall.
One of the best things about SumoMe is that it shows total shared counter, with the network that has the maximum number of shares automatically arranged at the top. This makes the number of shares look more and more impressive and is a function that is marked as pro feature by the developers of this plugin.
10. WP Social Sharing WordPress Plugin
WP Social Sharing plugin is totally responsive. You can add sharing buttons for the six major social networks: Facebook, Twitter, Pinterest, LinkedIn, Google Plus, Xing.
WP Social Sharing lets you decide if the buttons should appear on posts, media, pages, and custom post types. You can add text before the share buttons and the plugin integrates with any theme out there. WP Social Sharing is lightweight, simple to use and the best part is it doesn't cost a dime.
Do you have any favorite social sharing plugin that is listed above or not listed? Feel free to leave a comment below and suggest your favorite.