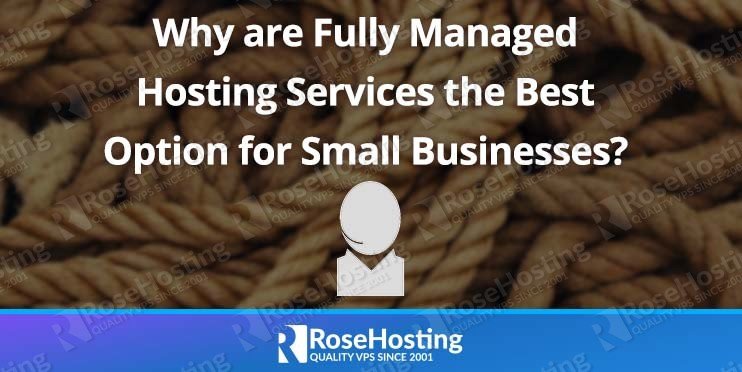 Running a small business successfully is a herculean task. More often than not, you have to work with limited funds, resources, and time. When managing multiple things at once, the last thing you want is to worry about website hosting!

However, it is one of the most critical aspects of your business in the modern world. Whether it is for your company website or an online retail store, choosing the right server is necessary to ensure optimum performance and to maximize customer satisfaction. In fact, it won't be an exaggeration to say that your choice of hosting can either make or break your business!
Choosing the Best Hosting for Small Businesses
Most small businesses struggle when selecting a hosting plan, but it does not have to be so hard. For starters, you need to identify and evaluate your needs. Once you know what you need from a hosting provider, you must carefully go through all your options before choosing the one that fits best.
Generally, small and medium-sized businesses are looking for hosting solutions that can be scaled as per their specific requirements. You may want to pay only for the features that you will actually use on a daily basis. On the other hand, you should have sufficient hardware strength to be able to handle unusual or occasional spikes in traffic.
For example, a brand new website may not receive a huge amount of regular visitors. However, with time, your business may generate a buzz and even have a potential traffic spike at times. So, your website should be able to accommodate the additional bulk in traffic.
Once you figure out what you need, you should look into the most popular options: managed and unmanaged hosting. Let's dig deeper and find out what each of these means.
Unmanaged Hosting
With unmanaged hosting, you only get a basic hosting plan with no additional features or services. Essentially, you get the server with no strings attached. In most cases, unmanaged hosting plans includes a server with an operating system already installed. That means if you need any additional software, you would have to install and configure it on your own. You would also be responsible for handling critical aspects of your server, such as website support, data backups, website security, and performance optimization.
With no support from the hosting provider, you would have to manage all aspects of server maintenance. From sorting out errors and issues and taking care of scaling requirements, to maintaining the OS and downloading software, every responsibility will be on your shoulders.
Managed Hosting
Managed hosting, on the other hand, comes with the full package. You not only get a high-end dedicated server, but you also get additional features and services, such as website patches, tech support, automatic backups, and website monitoring. Statistics have revealed that the managed hosting market is worth a whopping $12 billion, and the figure is expected to reach $81 billion by the end of 2020. The statistics alone should tell you the sheer scale of its popularity and demand.
Managed hosting almost always costs more than unmanaged hosting. However, the additional features and continuous support that you will get from the hosting provider will certainly make up for the high price. All in all, managed hosting is a much better choice than unmanaged hosting. You're paying for the time and effort that it'll save you, which in most cases is far more valuable than the effort spent fixing and maintaining things yourself.
Reasons you Should go for Managed Hosting
Every business is vying for attention online. Being a small business, you have to compete with the industry giants, which is an enormous undertaking. To stand out from the crowd, you should be on top of your game. You cannot achieve that without a highly functional website.
Since the server is the soul of a website, that is where you need to pay the most attention. The best part is that you don't even have to do it on your own. The hosting provider will take care of all the server related issues. With managed hosting, you get access to a wide range of benefits. Let's take a look at some of them.
Need a fast and easy fix?
✔ Unlimited Managed Support
✔ Supports Your Software
✔ 2 CPU Cores
✔ 2 GB RAM
✔ 50 GB PCIe4 NVMe Disk
✔ 1854 GeekBench Score
✔ Unmetered Data Transfer
Performance Monitoring
You can never turn a blind eye to your website's performance. However, when you get managed hosting, you do not need to monitor performance on your own. Your service provider will do it for you and will help you to optimize your server based on the applications you are using.
Scalability
Every small business needs a hosting service that is scalable. As your website grows bigger, you may need additional server resources to handle the additional traffic over time. With managed hosting, you will be able to upgrade your server at any time, instantly, and without any downtime.
Support Services
Every online business needs a competent customer support team. It helps to build loyalty and trust among customers, which is crucial to your success. A well-managed hosting service comes with excellent customer support. When buying hosting, do not forget to ask the service provider if the package comes with round-the-clock customer support. This extra feature could save your business when you need it most.
Security Assurance
Over the last few years, cybersecurity has taken precedence over everything else. Every online business is vulnerable to malicious attacks and threats. The best way to safeguard your website against cyber attacks is to pay the utmost attention to security. Managed hosting services offer state-of-the-art security features and tools. The iron-clad security protocols, algorithms, and advanced encryptions are hard to beat, and puts you at the security level of the large companies that you're competing against.
Application Support
A reliable managed hosting service is capable of supporting a diverse range of applications and their various versions. For example, WordPress 5 is the best and latest version of the CMS that is ideal for blogging. On the other hand, Magento 2 is the latest version of one of the most popular eCommerce platforms. Be sure to ask your managed hosting provider if they support all versions of the popular applications.
As you can see, fully managed hosting comes with a ton of excellent features and services. Unmanaged hosting, though much cheaper, leaves a lot to be desired. When it comes to choosing the server of your website, you cannot skimp. A fully managed hosting service allows you the freedom and peace of mind to run business operations smoothly without a hitch. The server is how you are represented as a company to your clients online. Therefore, it is certainly the best choice for small businesses looking to make a mark in the industry.
---

P.S. If you enjoyed this post on what makes managed hosting an excellent choice for small businesses, or if you found it helpful in choosing, feel free to leave a comment in the comments section, or share this post on social networks using the share shortcuts. Thank you.