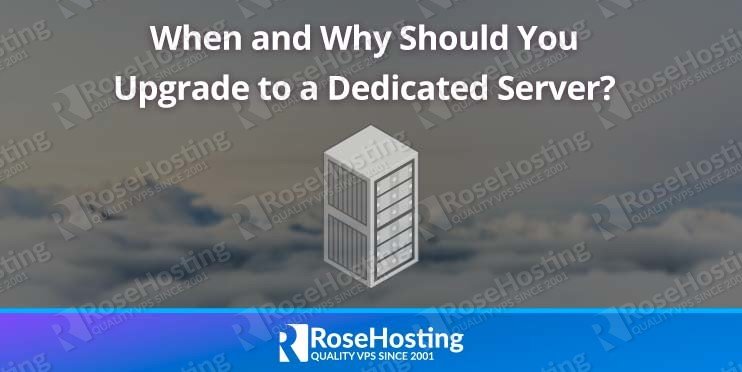 The core objective of every business, whether it's SMEs or large-scale corporations, is to provide their customers with an exceptional UX (user experience). Most of them start with a shared server or VPS hosting as they are cost-effective, but eventually such a hosting plan fails to sustain once you start to scale up. Knowing this, it might be hard to decide when to upgrade. Let's show you when and why you should upgrade to a dedicated server.

Dedicated server hosting gives you an entire server solely reserved for your business's uses. Such a hosting environment provides enhanced security and performance with root access to admin. Though dedicated servers are more expensive than shared hosting or VPS hosting, it is perfect for businesses who are serious about their website and want to expand. 
Now it might be a bit challenging for businesses to understand when exactly to switch to a dedicated server. 
So, in this post we are going to look at reasons why and when you should turn to dedicated server hosting:
When You should upgrade to a Dedicated Server:
Each business website and hosting environment varies between one another. However, the following are a few circumstances under which you might want to switch to dedicated server hosting:
Slow loading times
If you have poor website performance with slow loading times, it is high time to upgrade to a dedicated server. If users repeatedly get the server error page or have to wait longer for your site to load, they might end up leaving.
Traffic hike
If your site's monthly traffic is increasing, your host needs to keep up with it whilst delivering seamless UX. 
A shared hosting plan for example might not be able to handle sudden traffic hikes and thereby hindering your business's potential. That's when it is ideal to switch to a dedicated server before the user faces the server page error issues.
Multiple Domains
Dedicated server is a cost-effective solution for multiple domain hosting. 
It is difficult to deal with multiple accounts in a shared hosting environment, whereas it is easier to host unlimited domains on a single dedicated server. Through a single well-integrated interface, you can easily add, delete and manage accounts as you'd like.
Benefits of a Dedicated Server: Why do you need to switch?
No matter what your business niche or website content is, switching to dedicated servers is generally a good and safe idea.
Here are some of the main benefits that a dedicated server offers:
Speed and Performance
In a shared hosting environment, server response time greatly depends upon resource usage, as other users are also sharing the resources and storage space. Even with VPSes, your website's speed can be affected by external factors. However, with dedicated servers, you get faster page loading times and server response times. This is because the resources (such as network bandwidth, CPU, RAM, memory, disk, etc.) are utilized by your applications alone.
Increased Control
Dedicated servers provide better user control over your own server, thereby improving scalability and reliability for businesses. 
You can easily customize the hardware configuration, run firewalls, add or delete software and enable/disable functions, as per your requirements. Plus, you get unrestricted access to the server resources, OS, and software applications. 
Enhanced Accessibility
Shared hosting plans are likely to face downtime issues, especially during high traffic or increased requests for resources from different websites. Sometimes peak traffic might also cause the system to crash due to excessive resource usage. 
With dedicated servers, you don't have to face these problems, as you will be the only one utilizing the resources.
Extra Memory
If your enterprise demands more storage or has increased traffic, it's better to upgrade to a dedicated server.
Dedicated servers do not share any resources. This gives you the freedom to completely utilize large applications, host content or videos without worrying about storage issues.
Improved Security
If a shared server has malicious viruses or malware, the websites are likely to be attacked as well. Such hosting is not ideal for businesses who gather sensitive customer information such as credit card details, addresses, etc.
Security breaches will not only cause business failure, but also potentially harm your clients.
With dedicated servers, ONLY you will have root administrative access to the resources and can set up customized security policies across the server. Thanks to this, you don't have to worry about internal malicious attacks. And in case of a security threat, it is much easier to detect what's causing the problem with dedicated hosting.
Scalability
If enterprises want to start a new venture or add another website to their existing ones, a dedicated server is ideal. With various resources at your hand, you can seamlessly run and manage multiple websites at a time.
Solid Dedicated Support
Certainly, a dedicated server is costlier compared to a VPS or shared hosting, but the expensive price comes with an exceptional set of features and benefits. Dedicated server providers deliver solid, round-the-clock customer support to deal with any issue your business might be facing.
Dedicated support comes handy, especially for SMEs who are not familiar with operating or maintaining a server. With consistent support, businesses won't be facing potential problems such as downtime, poor performance or security risks.
Need a fast and easy fix?
✔ Unlimited Managed Support
✔ Supports Your Software
✔ 2 CPU Cores
✔ 2 GB RAM
✔ 50 GB PCIe4 NVMe Disk
✔ 1854 GeekBench Score
✔ Unmetered Data Transfer
Customization
Dedicated hosting environment provides unlimited customization to suit your application needs. You can configure and optimize different components of your server, such as custom versions of PHP, MySQL, Apache, and more.
Since you have root admin access server-wide, you can add, remove or modify your applications seamlessly.
Wrap Up:
Not every business website needs a dedicated server. However, once an enterprise scales up to a certain level of high traffic, peak performance and increased demands, it is better to switch to a dedicated server. 
The most common sign that it's time to jump to a dedicated server is when your website requires more power or bandwidth than what your existing hosting plan provides. Upgrading beforehand will save you from potential trouble.
Dedicated servers are hands-down the best solution for businesses that really want their resources and business components dedicated solely to themselves. If your website has sensitive data or you simply need more speed, control, and power, it's a great idea to upgrade to a dedicated server.
---

When you have a dedicated server, you're going to need someone to look after and maintain all of your mission-critical services and software. That's where we come in – our managed dedicated servers are a fantastic choice for hassle-free hosting. We can maintain, optimize, and look after your server so that it's running at full speed at all times. Our expert team is available 24/7 and is ready to handle any request that you might have.
If this guide gave you some insight on what dedicated servers can do for your business, we'd appreciate you sharing this post on social media with your colleagues by using our share shortcuts. If you have any suggestions or other factors that you consider important, please leave them in a comment down below. Thanks.