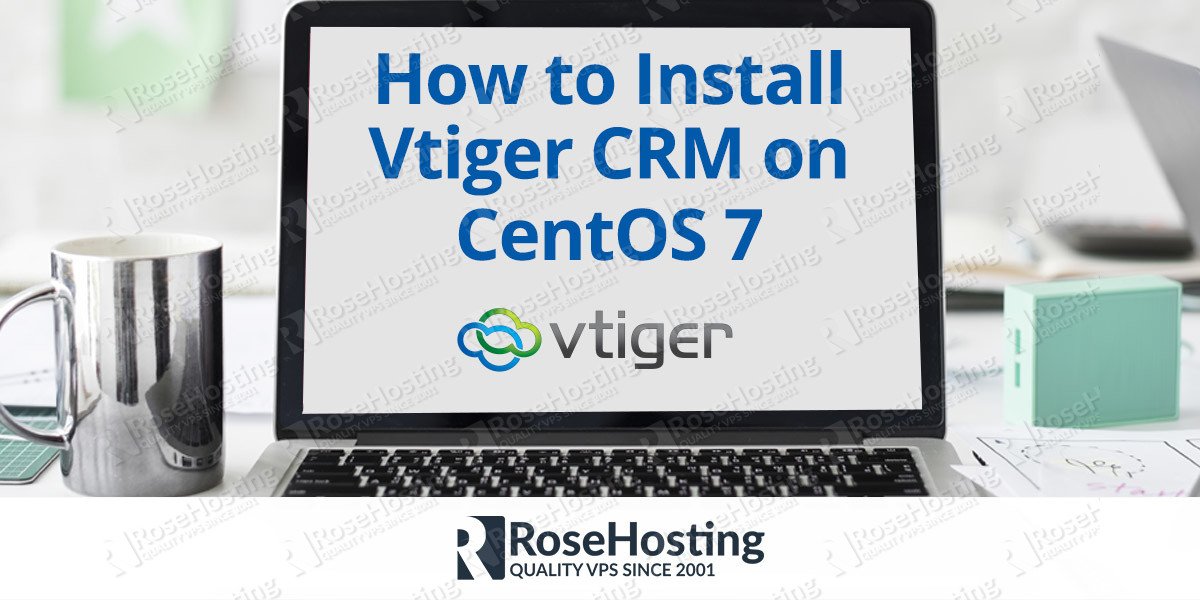 We will show you how to install  Vtiger CRM on CentOS 7 . Vtiger CRM is an open-source Customer Relationship Management application written in PHP. It offers features such as sales automation, marketing automation, analysis and reporting, customer support and many others. It is very easy to install this Vtiger CRM on CentOS 7,  so if you like to have your own CRM application on your server you can proceed with the following steps.
1. Install LAMP Stack and PHP
You need to have LAMP stack installed on your server. It is pretty easy to install LAMP stack on your Linux VPS if you do not have it already installed. Also, make sure that your server runs PHP version 5.5 or above since the latest version of Vtiger CRM (at the moment of writing is 6.2.0) requires PHP 5.5 or above.
2. Check the PHP version
To check the PHP version on your server, you can log in to your server via SSH and run the following command:
php -v
3. Upgrade your system software
Next, you need to upgrade your system software to the latest version available. You can do this by executing the following command:
yum update
The update should take no more than few minutes to complete, so once your system software is up to date you can proceed with the other steps of this tutorial.
4. Download the latest version of Vtiger CRM
Navigate to the /opt directory on your server and download the latest version of Vtiger CRM:
cd /opt
wget http://downloads.sourceforge.net/project/vtigercrm/vtiger%20CRM%206.2.0/Core%20Product/vtigercrm6.2.0.tar.gz
5. Unpack Vtiger CRM
Once you download the archive, you can proceed and unpack the files:
tar -xzvf vtigercrm6.2.0.tar.gz
6. Change ownership of the files
Change the ownership of the files and move them to your /var/www/html directory:
chown apache: -R vtigercrm
mv vtigercrm /var/www/html/
7. Create a New MySQL Database
Vtiger CRM requires MySQL database to store its data and now it is the right time for you to create the database for your application. To do that you need to log in to your MySQL server:
mysql -u root -p
8. Configure MySQL Database
And execute the following commands one by one:
Need a fast and easy fix?
✔ Unlimited Managed Support
✔ Supports Your Software
✔ 2 CPU Cores
✔ 2 GB RAM
✔ 50 GB PCIe4 NVMe Disk
✔ 1854 GeekBench Score
✔ Unmetered Data Transfer
CREATE DATABASE vtiger;
CREATE USER 'vtiger_user'@'localhost' IDENTIFIED BY 'PaSsWoRd';
GRANT ALL PRIVILEGES ON `vtiger`.* TO 'vtiger_user'@'localhost';
FLUSH PRIVILEGES;
For security reasons you should use stronger password for your database user.
Now, access your Vtiger CRM application using your favorite web browser.
http://IP-ADDRESS/vtigercrm/
Replace IP-ADDRESS with the IP address of your CentOS VPS.
9. Continue With the Online Installation
You will have to enter the database information, create an Administrator user and set a password as well as some other similar things. Moreover, you may have to change some settings in your php.ini file. The installation setup will provide you with more information about the settings you need to change. Once you make the changes in your php.ini file, it is necessary to restart your Apache web server.
10. Restart Apache Server
systemctl restart httpd
Of course you don't have to Install Vtiger CRM on CentOS 7,  if you use one of our optimized Vtiger CRM Hosting Plan, in which case you can simply ask our expert Linux admins to install Vtiger CRM on CentOS7,  for you. They are available 24×7 and will take care of your request immediately.
PS. If you liked this post on how to Install Vtiger CRM on CentOS 7, please share it with your friends on the social networks using the buttons on the left or simply leave a reply below. Thanks.