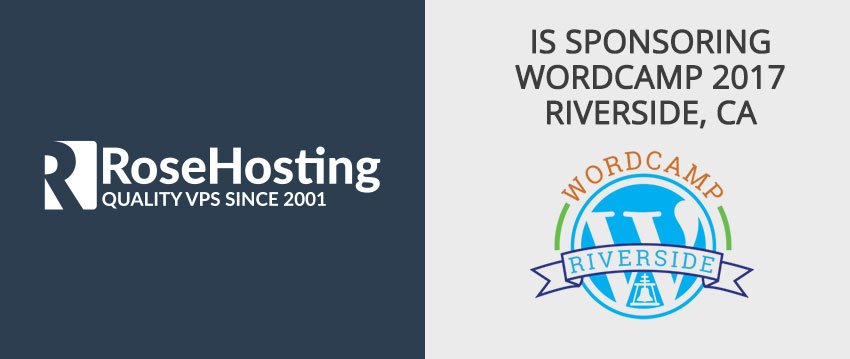 ST. LOUIS, MISSOURI | October 19, 2017
Managed cloud hosting provider RoseHosting is proud to be sponsoring the first ever WordCamp in Riverside, California. The 2017 WordCamp in Riverside, California, is an opportunity for WordPress developers to get to know each other and share ideas.
provides managed WordPress hosting, including website migration, server monitoring, and full backup services. Offering ultra-fast Linux virtual private servers, RoseHosting provides cloud hosting for businesses that need an online presence.
RoseHosting is a perfect sponsor for the 2017 WordCamp in Riverside, CA as WordPress users who require hosting for their web services can turn to RoseHosting to meet their needs. For example, RoseHosting provides managed CMS hosting for companies that want to publish content online without all of the hassle of managing and running a server.
WordCamp 2017 is expected to be an exciting event for designers, developers, bloggers, and business owners from all across Southern California. Sessions are available for everyone from beginners to advanced developers. The camp features multiple speakers who will share valuable information with attendees and answer any questions from the audience. Everyone is welcome to attend WordCamp 2017 and share ideas and experiences with other entrepreneurs.
This is the first time WordCamp has come to Riverside. The camp will take place at SolarMax Technologies, where RoseHosting and the other sponsors will be present to provide insight on the products and services they offer. This inaugural WordCamp is an important step in the creation of a strong, supportive WordPress community in the local area. The organizers hope that local designers, developers, and bloggers will get to know each other and forge strong relationships that can help everyone succeed.
RoseHosting is a privately owned St. Louis-based company, in business since 2001. Back then, they were the first and only company in the world to offer commercial Linux virtual servers. Now, they offer several hosting solutions to thousands of customers around the world. Their data center is located in St. Louis, Missouri, less than 100 miles from the population center of the USA.